This one needs a little context before I dive into a review of it, as it's a little outside our usual field of theatregoing. As any regular readers know I'm not a great fan of musical theatre, and although I like a bit of Queen it wouldn't be enough to get me along to this one - certainly not all the way through to Rothes Halls in Glenrothes. But this was a little special in that it was being put together by the folks at the Scottish Theatre Forum as a one-off production for a short run. Having followed the development of the show on the Forum, I had to see the final product.

It's important for me to stress that as always, this amateur production is reviewed to the same standards as a professional performance, so please keep that in mind as you read this - along with the fact that I really don't do musicals. Okay... deep breath...

I loved this. There, I've said it... I loved just about every minute of this. I spent nearly three hours with a silly grin on my face. Now let's just take it as a given that the "plot" is a bit of a nonsense designed around the songs, but does anyone go to see any musical for the plot? And the sharpness of the dialogue makes up for any shortfallings, although this being a matinee performance, many of the parents around us were trying hard to stifle laughs rather than having to explain to their kids what was so funny.

Musicals are about the performances - singing, dancing and acting, and my major issue with musicals tends to be that the acting that takes a back seat - but there were no such worries here. It was a great ensemble with good work from the chorus, but the principals each deserve a mention.

Andrew Doig as our hero "Galileo" produced a suitably frantic and at times bewildered performance but it was his vocals that really stood out - particularly with "I Want To Break Free", "Under Pressure" and "Bohemian Rhapsody".

I'm sure most people will leave the performance talking about Kim Shepherd's singing as "Scaramouche" and while it was absolutely wonderful I think that actually does her a disservice. I hope people also remember her acting performance - the subtleties of awkward movement, her facial reactions to others, and her comic timing - all top class. Musically, she absolutely nailed every song and her duets with Doig worked brilliantly.

The pairing of Susan Burnett as the evil "Killer Queen" and Glen McGill as her enforcer "Khashoggi" were both excellent with Burnett making the most of "Don't Stop Me Now" and "Another One Bites The Dust". McGill equally so, with "Seven Seas of Rhye" but he also brought a great deal to the production with his acting skills and sheer stage presence.

Jason Roseweir and Jennifer Singer owned the stage as the rebels "Britney" and "Meat", with their rendition of "I Want It All" being one of the show's highlights, indeed Roseweir's absence from the second act was the only disappointment of the production. Despite impressive vocals and very physical performances they were both expressive throughout. Singer's dancing background shone through and she produced a stunning vocal for "No-one But You (Only The Good Die Young)"

Mark Grieve provided great entertainment as "Pop" delivering some of the shows best lines, and his "These Are The Days of Our Lives" hit the spot. He was also the driving force behind this production happening at all - so much of the credit for the whole show goes to him.

This being a big scale production in every sense, the technical aspects also need commented on. Set design added to the feel of the piece, the lighting was some of the best I've seen in a long time, and video projection was also well used. Despite a couple of sound drop-outs, for the most part the levels were good and the live band on a side stage really added to the experience.

I can't quite say that I'm a convert to musical theatre but I'm certainly more open to giving it a go under certain circumstances, and I'd certainly rush back to any future STF shows or shows featuring some of those I saw today once they return to their usual companies. This was great, great fun and the audience thoroughly enjoyed themselves - so much so that I find it difficult to imagine the energy levels both on an off stage for the final Saturday night performance.

"We Will Rock You", "Guaranteed to Blow Your Mind" it said on the posters - yep, pretty much.


Galileo, Scaramouche, Meat and Britney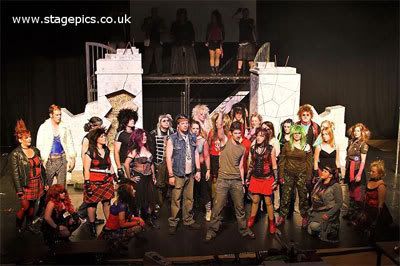 "We Will Rock You"


Pictures courtesy of Stagepics - Online gallery of production images and an extensive CD of WWRY images available for purchase.